Just outside Zakopane, in Koscielisko village, on a steep, south-facing slope of Gubalowka peak, you will find an abandoned hotel Salamandra.
The hotel was built in 1906, as a sanatorium for patients with lung diseases. It was owned by Maria Sklodowska-Curie's sister – Bronislawa Dluska and her husband Kazimierz Dluski (who also founded the Tatra Museum and Tatra Mountains Volunteer Rescue Service). The sanatorium was visited by Marshal Jozef Pilsudski , President Ignacy Moscicki and Maria Sklodowska-Curie.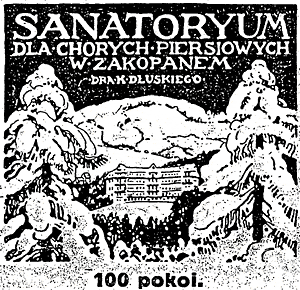 Salamandra's advert from 1916 (source: koscieliska.pl)
In 1928, it passed into the hands of the Ministry of Military Affairs. "Military Holiday House Salamandra" received thousands of visitors each year. The complex was considered to be the highest located holiday resort in Poland.
Unfortunately, the glory days are behind Salamandra – it was closed in late 90's. Today all the buildings are abandoned and fall into ruin. It is said that the hotel was recently bought by a businessman from Zakopane. Maybe he is going to reopen it?
The main builing consist an old and a new part. At guest's disposal there were: rooms located on 5 floors, spa and a swimming pool in the basement, a restaurant and bar. But the best of all was a tarrace with an outstanding view at Tatra Mountains. The area around the building was formerly surrounded by a large park with a playground, a pond, bridges and waterfalls. You can still find traces of them under a thick layer of lush and savage greenery. On a very vast area, in addition to the main house there are 3 smaller wooden buildings with guest rooms, a laundry building, a ski lift and ski rental building (!), a garage, a café and a disco.
Interiors are mostly devastated, but the atmosphere of the place is still amazing and a bit scary, especially when you walk through the stairways with missing handrails. Every minute of the time spent in Salamandra was giving us those goose bumps, when entering a kitchen, reception desk, or a restaurant we saw it alive in our heads. We entered the property last winter, inspired by a website forgotten.pl, which desribes places like this in Poland. See the pictures from our visit. Please remember that entering the area of Salamandra complex is risky and you go there on your own responsibility!
Source: forgotten.pl  koscieliska.pl turystyka.wp.pl
Social Share